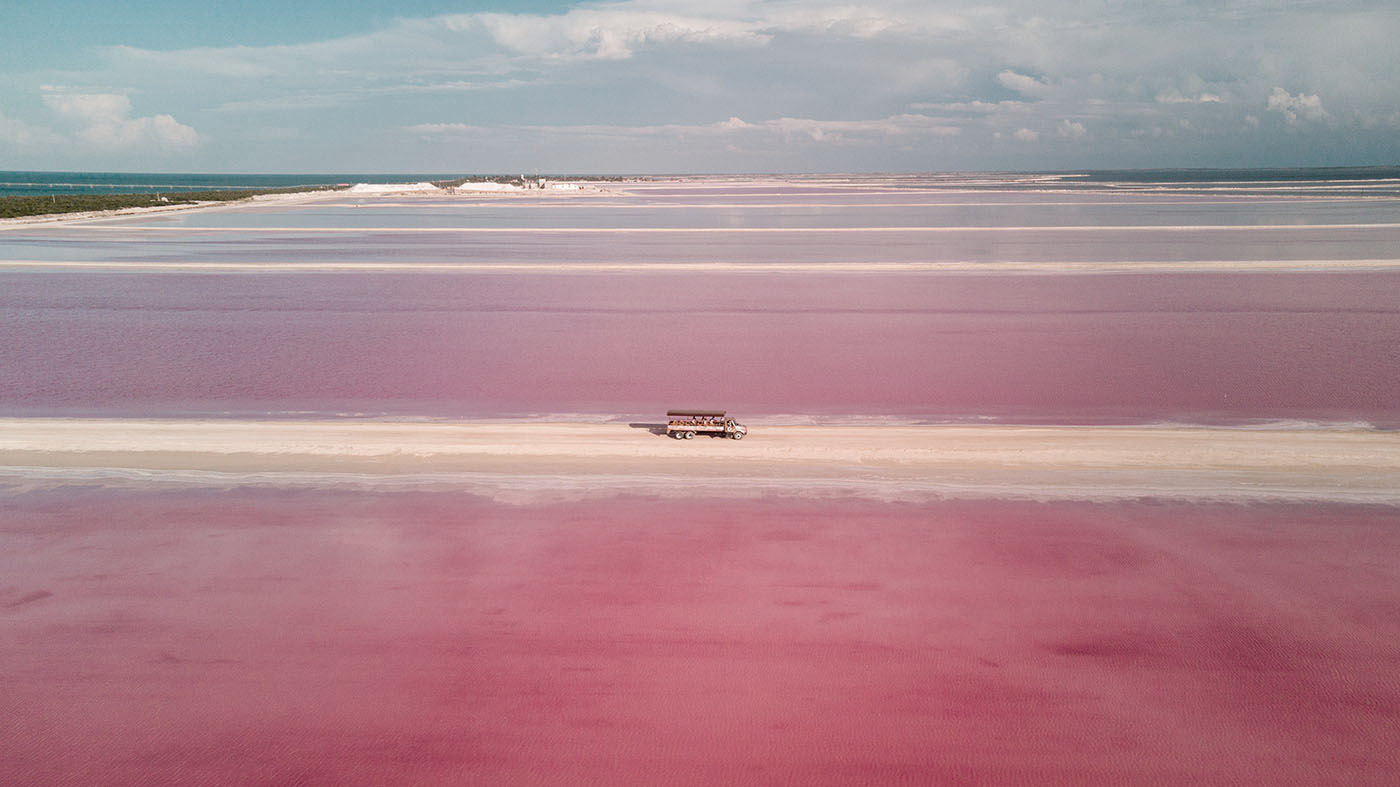 Safari Tour
---
El tour comienza abordando nuestro transporte todo terreno rumbo al interior de nuestro sistema lagunar que cuenta con humedales con alta diversidad biológica, ubicados en un área natural protegida categorizada como una "Reserva de la Biósfera", es decir, que cuenta con zonas que presentan un alto grado de importancia y preservación ecológica a nivel nacional.
Nuestro sistema lagunar de producción salina resulta ser un hábitat perfecto para muchas aves acuáticas residentes y migratorias, ya que cumple con las condiciones que buscan para refugio, alimentación, reproducción y crianza, siendo lo más destacada el flamenco rosa del caribe. (esta ave se podrá apreciar en el recorrido, pero no siempre será el caso, ya que ellas van cambiando de lugar de acuerdo a sus necesidades de alimentación)
Seguidamente te adentrarás por un recorrido inolvidable en el corazón de la Salinera más grandes del país; durante nuestro recorrido podrás apreciar el proceso de producción de sal de mar por evaporación, la formación de cristales de sal en la zona de cristalización, y el almacenaje en un inmenso cerro que te hará creer que estás en la superficie de la luna. Si tu visita es durante la temporada de cosecha, también podrás ver este proceso donde maquinarias especializadas recogen la sal.
Por supuesto, esta visita no estaría completa sin haber visitado las espectaculares aguas rosadas de Las Coloradas.
The tour begins by boarding our all-terrain transport heading to the interior of our lagoon system that has wetlands with high biological diversity, located in a protected natural area categorized as a "Biosphere Reserve", that is, it has areas that present a high degree of importance and ecological preservation at the national level.
Our saline production lagoon system turns out to be a perfect habitat for many resident and migratory waterfowl, since it meets the conditions they seek for shelter, food, reproduction and breeding, the most outstanding being the Caribbean pink flamingo. (This bird can be seen on the tour, but it will not always be the case, since they change places according to their feeding needs)
Then you will enter an unforgettable tour in the heart of the largest salt mine in the country; During our tour you will be able to appreciate the production process of sea salt by evaporation, the formation of salt crystals in the crystallization zone, and the storage in an immense hill that will make you believe that you are on the surface of the moon. If your visit is during the harvest season, you will also be able to see this process where specialized machinery collects the salt.
Of course, this visit would not be complete without visiting the spectacular pink waters of Las Coloradas.
PRECIOS
PRICES
Público en general
General Public
Tour en camión por la salinera
Truck tour by the pink waters
$ 670 MXN
por persona
per person
Reservar
Book here
Viajar en un vehículo todo terreno al interior la planta de producción de Sal Sol.
Conocer todo aquello que hace especial a la reserva de la biosfera de Rio Lagartos.
Explicación detallada de las principales características del proceso de producción de sal de mar.
Descripción del motivo del espectacular tono rosa que adquiere el agua al final del proceso.
Oportunidad de tomar espectaculares fotografías es uno de los escenarios más hermosos de México.
Presenciar la estrecha relación que existe entre un ecosistema saludable y la producción de sal de mar.
Travel on an all-terrain vehicle into Sal Sol's production plant.
Get to know everything that makes the Rio Lagartos biosphere reserve especial.
Detailed explanation of the main characteristics of the process of sea salt production.
Description of why the waters get the spectacular pink tones at the end of the process.
A chance to make spectacular pictures in one of the most beautiful sceneries of Mexico.
Witness the close relationship between a healthy ecosystem and sea salt production.
✓ Transportación en vehículo todo terreno.
✓ Uso de las instalaciones del visitor center
✓ Medidas anti-Covid.
× Propinas para guía.
× Bebidas.
✓ All terrain vehicle transportation.
✓ Use of visitor center facilities.
✓ Anti-Covid measures.
× Tip for the guide not included.
× Beverages not included.
Vestir ropa fresca y cómoda.
Usar calzado cómodo, preferentemente cerrado.
Llevar gorra, sombrero y lentes obscuros.
Es recomendable contar con repelente y bloqueador solar bio degradables.
Llevar una botella de agua reusable para hidratarse durante el recorrido.
Cámara
No está permitido el acceso a mascotas al interior de las instalaciones.
No está permitido acercarse a menos de 2 metros de la orilla de los cristalizadores de aguas rosas.
Los horarios están sujetos a operación y podrían tener una variación de 30 minutos
Dress fresh and comfortable clothing.
Use comfortable footwear, preferably closed toes.
Wear a cap, hat, and sunglasses.
We recommend having biodegradable bug repellant and sun screen.
Bring a reusable water bottle to hydrate during the tour.
Camera
Pets are not allowed inside the compound.
Getting within less than 2 meters (6 ft) of the shore of the pink water crystallizers is not allowed.
Schedules are subject to operation and may have a variation of 30 minutes.
De marzo a septiembre son los meses en los que se alcanzan las mayores tonalidades de rosa en los cristalizadores
De abril a octubre es probable presenciar el proceso de cosecha de sal en algunos cristalizadores.
La temporada de flamenco rosa es de abril a septiembre.
From march to september is the season when the crystallizers get the most pink.
From april to october there's a chance you can witness the process of salt harvesting on some of the crystallizers.
The flamingo season is from april to september.
Aquellos visitantes que presenten algún requerimiento especial asociado a alguna discapacidad o tengan una solicitud particular, deberán contactarnos al correo electrónico reservaciones@salsol.com.mx para atender de manera expedita la situación.
Visitors who required special assistance because of some disability or have a particular request, should contact us by writing to reservaciones@salsol.com.mx to process your request in an expedite manner.